Contact Address
-Mailing address
Office of Core Research for the Energetic Universe,
Room B208,
Graduate School of Advanced Science and Engineering/Faculty of Science
Hiroshima University
1-3-1 Kagamiyama, Higashi-Hiroshima, 739-8526, JAPAN
-Email
Access to CORE-U
CORE-U is located in the Faculty of Science andGraduate School of Advanced Science and Engineering, Hiroshima University at Higashi Hiroshima. The access routes to Higashi Hiroshima and the faculty building are described below.
Access to Higashi Hiroshima Campus of Hiroshima University
-From Hiroshima Airport
Please take the Geiyo Bus to Shiraichi Station, transfer to a train bound for Saijo, Hiroshima and Iwakuni, and get off at Saijo. It takes approximately 15 minutes to Shiraichi Station by bus and a further 10 minutes to Saijo Station by train.
-From Saijo Station (JR)
There are two companies that provide a bus service between Saijo Station and the Higashi Hiroshima Campus. Please refer to the Geiyo Bus website for an updated timetable (in Japanese).
Buses depart from bus stop No. 3 in front of Saijo Station. The ride will take approximately 15 minutes. Please refer to the campus map to determine which bus stop to get off at when you reach the Higashi Hiroshima Campus.
-From Higashi Hiroshima Station (Shinkansen)
There is a very limited bus service to the Higashi Hiroshima Campus from Higashi Hiroshima Station. We recommend that you take a taxi to the Higashi Hiroshima Campus or arrange for someone to pick you up.
If there is no taxi waiting at Higashi Hiroshima Station, please call Saijo Taxi on 082-423-2525 or Higashi Hiroshima Taxi on 082-423-2121.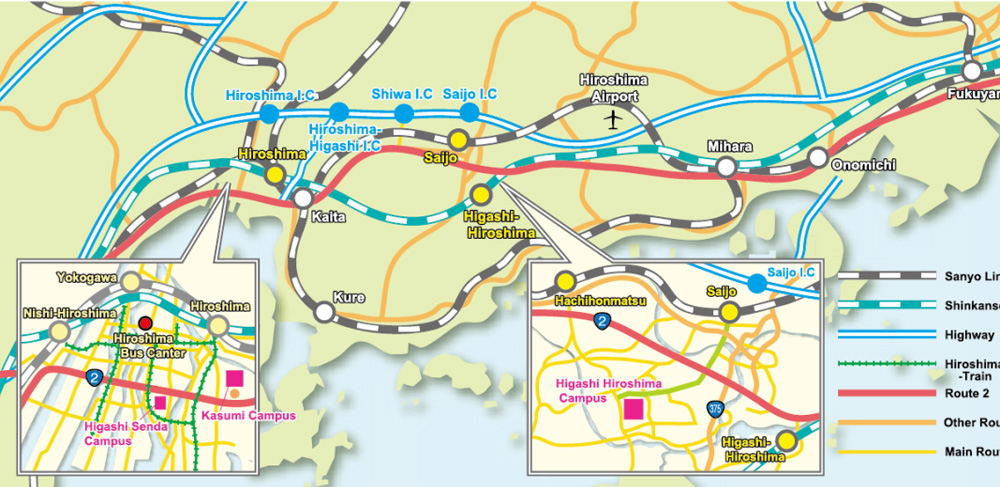 Access to Faculty of Science and Graduate School of Science
After getting off the bus at Hirodai-Chuoguchi stop, please follow the red arrow on the map. The office is located in Room B208 in building B.